Events calendar: activities to say goodbye to the year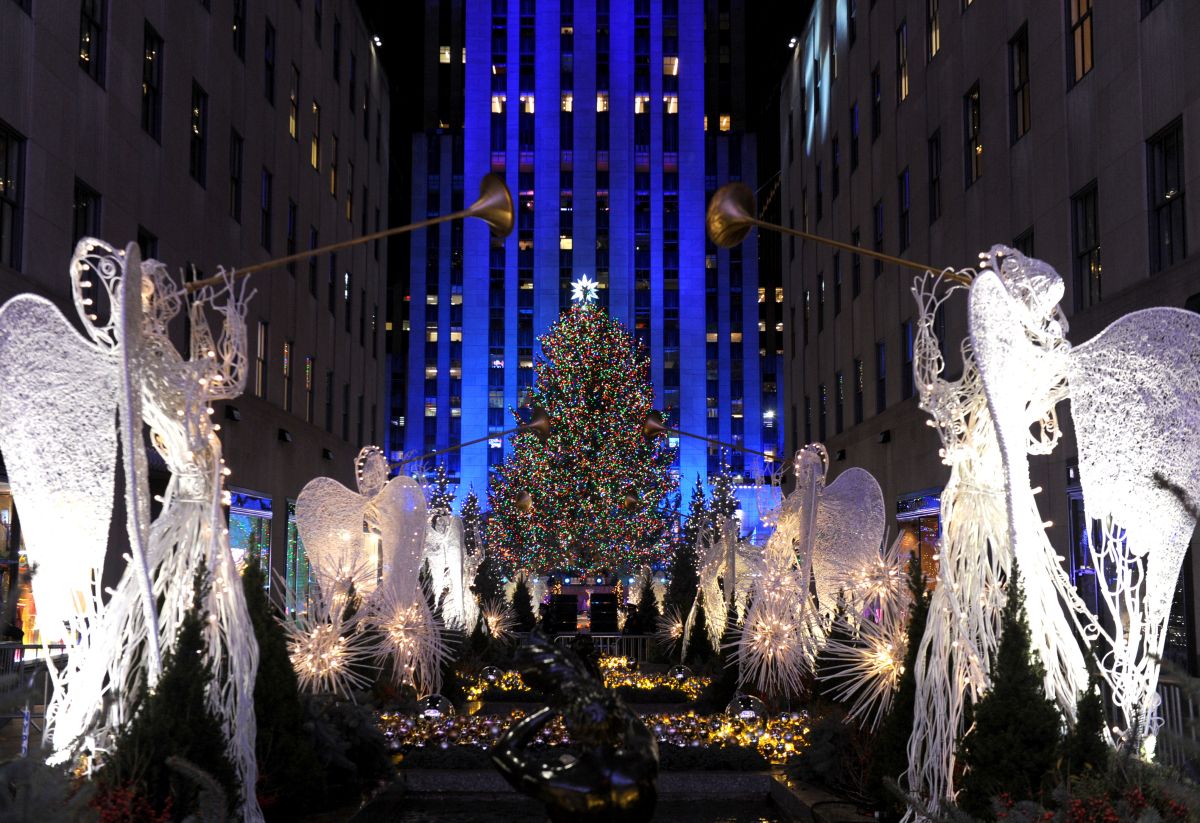 New Year's Concert at St. John the Divine Cathedral
The Cathedral of St. John the Divine (1047 Amsterdam Avenue, 112th Street) closes out the year with the "New Year's Eve Concert for Peace" on Saturday, December 31 at 7 pm. A New York tradition founded at the Cathedral by Leonard Bernstein in 1984, the concert will this year be presented by renowned journalist Harry Smith and feature the Cathedral Choir and Orchestra with vocal soloists Jamet Pittman, Mary Beth Nelson, Peter Stewart, Halley Gilbert and Paul D'Arcy. The concert concludes with the spiritual classic This Little Light of Mine. It will also be available for live streaming on the Cathedral's website, Facebook page, and YouTube channel. For tickets and more information, visit the website://www.stjohndivine.org/
Ice skating to receive the year
Ice Theater of New York (ITNY) will grace the ice at The Rink at Rockefeller Center on December 31, 2022 from 8:00-11:00 pm to celebrate New Year's Eve. To help ring in 2023, ITNY Ensemble members Sarah France and Aaron Singletary will put on an atmospheric skating show. To skate along with the performers, sign up for tickets at https://www.rockefellercenter.com/buy-tickets/#the-rink. Looking from above in the Plaza is free. For more information, visit icetheatre.org/new-years-eve-at-rockefeller-center.html.

Greet 2023 running
This December 31, the "Midnight Run" returns, a traditional race carried out by the New York Road Runners (NYRR) organization in Central Park along with the countdown to receive the New Year. Participants will toast with champagne and write their 2023 resolutions on a wall, plus watch a 15-minute fireworks display. The route will run on the four-mile "inner loop" of Central Park, starting and ending at 72nd Street Cross. From 10:00 p.m.-1:00 a.m. More information: nyrr.org

Say goodbye to the year with the "Trocks"
Les Ballets Trockadero de Monte Carlo, known as the Trocks, an all-male ballet company, brings its non-traditional festive tradition to the Joyce Theater once again, making audiences laugh as they walk on their toes and spin on their toes. The "Trocks" dancers have eschewed the rigid traditions of classical dance for nearly 50 years, balancing each perfect pirouette with a fall, breathing new life into this revered art form and bringing their fun and fabulous footwork to audiences who would otherwise otherwise they would not have been exploited. They will have performances until January 8, including December 31, at 2:00 pm and 6:00 pm. Tickets can be purchased at www.Joyce.org, or by calling JoyceCharge at 212-242-0800. The Joyce Theater is located at 175 Eighth Avenue at West 19th Street. For more information, visit: www.Joyce.org.

A great "Midnight Ball"
The McKittrick Hotel (530 West 27th Street, NYC), home of Sleep No More, will host its highly anticipated New Year's Eve celebration, The Midnight Ball, this Saturday, December 31. "Escape from the darkness of yesteryear to The McKittrick Hotel, where a dazzling kaleidoscope of decadence awaits," said the show's creative director, Croydon Leo. Guests are encouraged to dress up for the most decadent night of the year, where the past and present collide in an escapist fantasy. The night promises wonders and invites guests to enjoy a renewed freedom to ring in the New Year strengthened, emboldened and reinvigorated. Tickets available at: https://mckittrickhotel.com/

Japanese-style New Year's party
This Saturday, December 31, GG Tokyo, a restaurant that emulates Tokyo's famous Golden Gai district, known for its lively atmosphere and patronage of musicians, artists, writers, and celebrities, will host a party to celebrate the New Year. With an open bar from 9 pm to 12 am, it will offer an extensive list of champagne and spirits, a Tarlant champagne toast, hors d'oeuvres during the first hour and, of course, a DJ with music of all styles. GG Tokyo is located at 120 East 28th Street, New York, NY. More information: www.ggtokyo.nyc

Polar Plunge at Coney Island
The traditional "Coney Island Polar Plunge" returns this Sunday, January 1. As every year, members of the Polar Bear Club and anyone else brave enough to participate will venture into the icy waters of Coney Island for a splash. Watch as hundreds of daring souls plunge into the Atlantic Ocean, where the water temperature hovers around 40 degrees Fahrenheit and the air temperature can be well below freezing. The event is free, but in lieu of admission, participants are encouraged to donate to community organizations. At 11:00 am. More information: https://polarbearclub.org/

"Stranger Sings!" extend your presentations
Stranger Sings! The Parody Musical, originally scheduled to close its performances this Sunday, January 1, has just announced that they will continue with a limited 8-week extension starting on January 13. The show is an irreverent parody of Netflix's hit series "Stranger Things" and all its outlandish '80s glory, allowing you a trip back to Hawkins, Indiana, 1983: when times were simpler, hair was larger and unsupervised children were abducted by interdimensional creatures. Join Mike, Eleven, Lucas, Dustin and the entire Hawkins gang for a night of adventure, thrills, pubescent angst, heavy synths, poor parenting, convoluted love triangles, cheap effects, dancing monsters and maybe, just maybe… justice. . to everyone's favorite long lost redhead, Barb Holland. At Playhouse 46 in St. Luke's (308 W. 46th Street). To purchase tickets, visit: StrangerSings.com.