Very cold in NYC and heavy snowfall in upstate New York: state of emergency declared in anticipation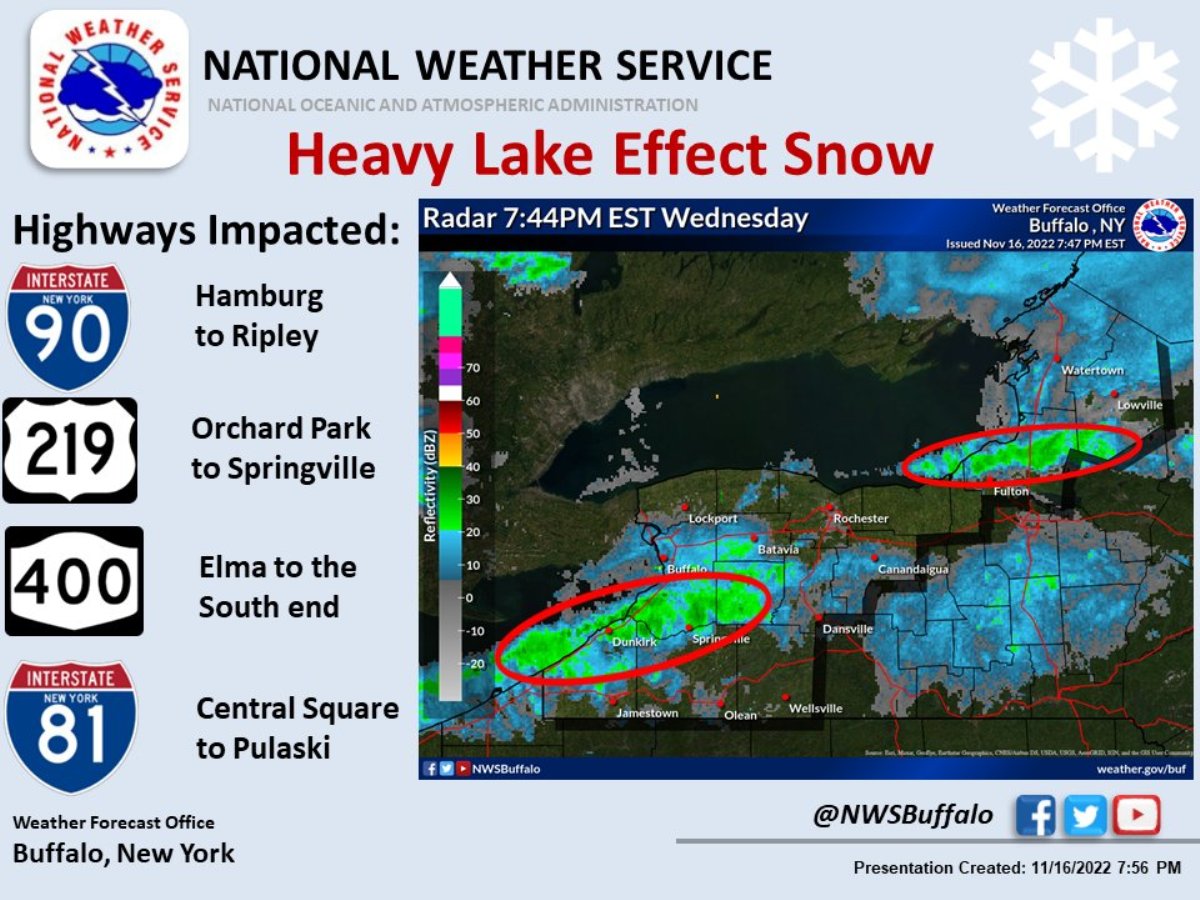 Buffalo and other areas in upstate New York are expecting a potentially historic "lake effect" blizzard that could shut down roads and paralyze cities for several days.
Governor Kathy Hochul issued a state of emergency yesterday for upstate New York effective this morning through Sunday, reported NBC News/2WGRZ.
"This event will have the very real potential to produce a paralyzing snowfall that could be measured in feet for the metropolitan areas of Buffalo and Watertown," said the National Weather Service (NWS), quoted by CNN. "Visibility will drop to near zero at times and roads will be covered in snow, which will make travel dangerous or nearly impossible."
While in NYC a new drop in temperature is expected, well below average for this fall time, forecast NWS NY on his Twitter account. During the day the wind chill is outlined at 37F (3C) and at night 21F (-6C). That trend will continue at least until Sunday.
Last night the storm had already dumped 10 inches of snow in South Wales, about 25 miles southeast of Buffalo. "And the worst is yet to come" summarized CNN. "The heaviest snow is expected to start Thursday night and last through Friday, with more bouts of heavy snow through the weekend."
The "lake effect snow" it occurs when cold air, which often originates in Canada, moves across open water in the Great Lakes region, he explains. NWS. The current storm would affect an estimated 6 million people in five states: Michigan, Illinois, Indiana, Ohio and New York.
According to the government statement, The most significant snowfall is expected today and tomorrow Friday with predictions of up to three feet of accumulation in the Buffalo area and up to two feet in Watertown, at an average of three inches per hour. Schools will be closed tomorrow in the area.
"Parts of Western New York, the Finger Lakes, Central New York, and the North Country are about to receive their first snowstorm of the season, which means we need everyone in these affected regions to be prepared for dangerous travel conditions". Governor Hochul said.
Weather updates can be found here and on the website of the National Weather Service (NWS-NY). More details here about the forecast in counties of New York and Jersey.