'Sunset and Darkness' campaign on road safety is activated in NY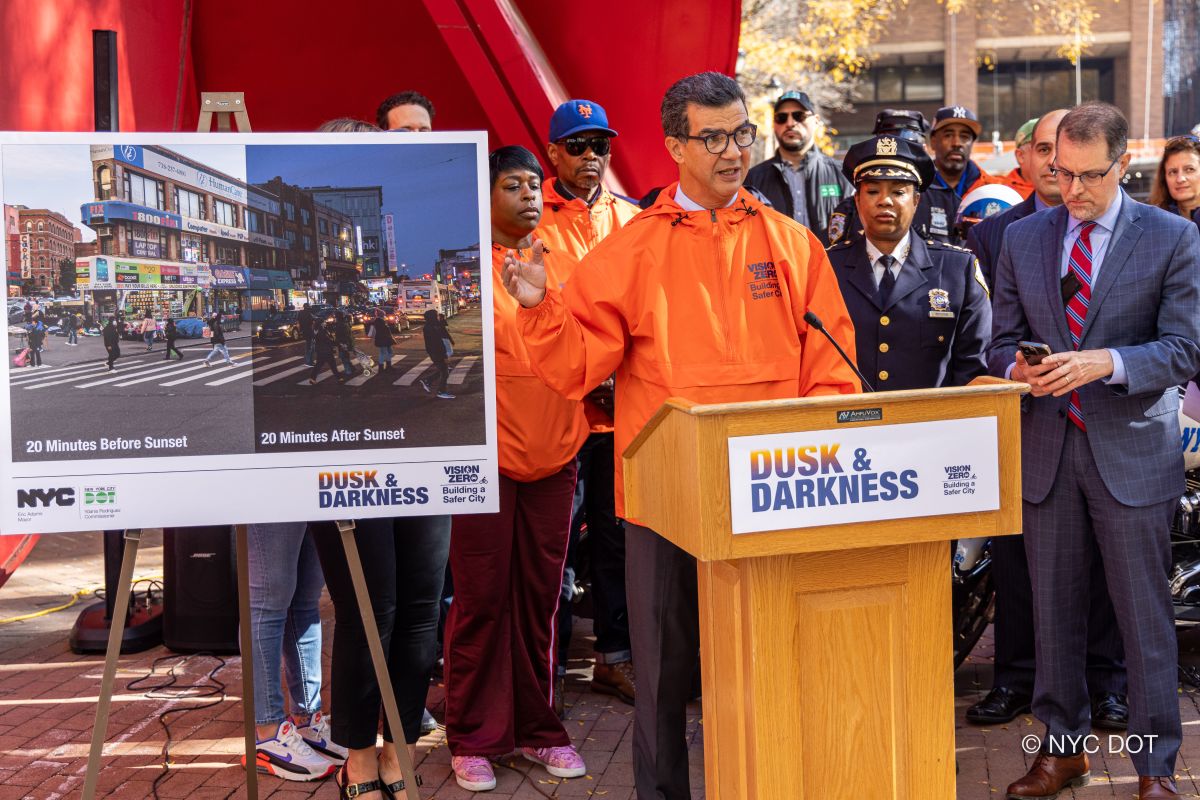 To promote road safety as winter approaches when it gets dark earlier, the 'Dusk and Darkness' campaign, Dusk and Darkness'sponsored by the Department of Transportation and the Mayor's Office of New York.
The alcalde Eric Adams announced the return of the annual "Dusk and Darkness" traffic enforcement and education measure, which seeks to keep pedestrians, bicyclists and all road users safe during fall and winter nights, especially after the end of the summer time this Sunday, November 6.
This year, the 'Dusk and Darkness' campaign will focus on promoting safe removal practices for commercial waste, managed by private companies, to protect workers and other road users, while the City Police Department of New York (NYPD) will expand traffic law enforcement of dangerous moving violations during the most dangerous evening and nighttime hours.
"This initiative brings together three things our administration has been focused on since day one: tracking data, breaking down silos between agencies, and keeping New Yorkers safe," Mayor Adams said.
"We've seen how dangerous the streets can be after the time change, and we're implementing specific, proven strategies to give New Yorkers the tools they need to keep themselves and their neighbors safe. Safety on the streets is public safety," added the official.
Light and visibility are reduced
Launched in 2016 and now in its seventh year, the 'Dusk and Darkness' campaign combines proven tactics to combat elevated fatality rates. During fall evenings, rush hour occurs at a time when sunlight and visibility are dramatically and suddenly reduced, leading to some of the highest fatal accident rates of the calendar year. In the past, this campaign has improved safety on city streets, reducing the average number of nighttime and nighttime deaths each year by 13.5% over the years it has been in effect compared to the previous five years. In that time period, the average number of pedestrian fatalities decreased by 21.7% and the average number of motor vehicle occupant fatalities decreased by 25.8%.
Drive responsibly
"Drivers must operate their vehicles responsibly every time they get behind the wheel, but as our days grow shorter, they have a greater responsibility to drive carefully to keep their fellow New Yorkers safe, especially on nights we know They are more dangerous," he said. Commissioner of the Department of Transportation (DOT), Ydanis Rodríguez.
"As the days grow shorter, it is important that we all travel through this city with caution and consideration for our fellow New Yorkers. I urge all drivers to keep speed down, cyclists to wear reflective gear, and pedestrians to cross streets with caution," said the Deputy Mayor for Operations Meera Joshi. "I thank the DOT, TLC, NYPD and all Vision Zero agencies for spreading this important message and helping keep our streets safe."
program initiatives
awareness day: DOT and NYPD Vision Zero Street kits were deployed in high-visibility locations throughout all five boroughs to remind commuters of the increased dangers of traffic crashes during the fall evening and overnight.
Increased Law Enforcement Overnight: The NYPD is engaging in increased and sustained law enforcement that began on Halloween and will continue through the fall and winter. NYPD officers will be deployed to local highways and streets, with an increased focus on driving behavior that endangers vulnerable road users. Officers will be on standby to enforce dangerous driving violations to keep pedestrians and bicyclists, including seniors and children, safe in city neighborhoods. The app will target drivers who speed, drivers who fail to yield, and distracted drivers who use their cell phones while behind the wheel. NYPD traffic officers will increase vigilance against double-parked vehicles blocking bike and bus lanes.
About summer time: As daylight saving time approaches the end of Sunday, agencies and partners in the Vision Zero Task Force will use social media channels to alert drivers to the dangers of reduced visibility, while encouraging them to follow the 25 mile per hour rule. Citywide speed limit and yield to pedestrians and bicyclists throughout the season.
Safety in the Commercial Waste Industry: BIC's enforcement activities include late-night and early-morning operations in partnership with the NYPD and other partner agencies. Safety enforcement includes inspections of garages, truck stops, and regulatory actions to ensure that commercial waste companies comply with safety requirements intended to protect commercial waste workers and all road users.