Events calendar: concerts, dance and street parties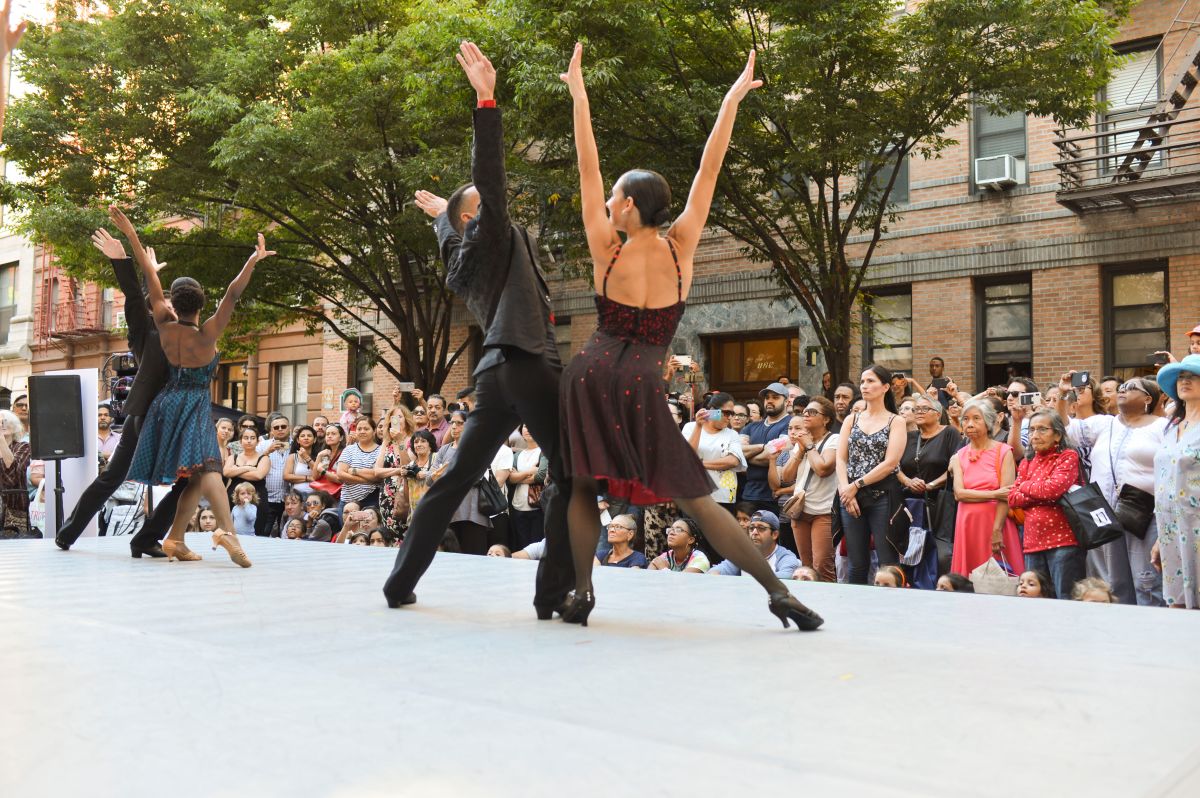 Prince Royce en el United Palace
Prince Royce, the Prince of Bachata, returned to the stage with his tour entitled "Classic Tour" that will cover ten of the most important cities in the United States and that arrives at the United Palace stage this Friday and Saturday. The prominent bachatero will celebrate 10 years of artistic career, singing songs that have become classics in pop culture such as "Corazón Sin Cara", "Darte Un Beso", "Sensualidad", "Deja Vu" and "El Amor Que Perdimos" . Both shows are at 8:00 pm. Tickets at: https://www.princeroyce.com
"The Bazurto All Stars" en el Flushing Town Hall
This Friday, September 30, The Bazurto All Stars, known as the "party machine", will travel from Cartagena, Colombia, to bring the energy of the champeta to the Flushing Town Hall stage. The group has created its own distinctive sound that comes from the mixture of African champeta, folk and electronic music, cumbia, vallenato, reggae, ska and even symphonic music, calling this fusion "La Champeta Universal". Among its songs are "La manguera", "El Bololo" and "La Pupileta", which in 2016 became the official song of the Carnival of Barranquilla (the largest celebration after Rio) and one of the most recognized songs in Colombia. at that moment. The seven-piece ensemble will also present a Champeta workshop prior to their concert for audiences interested in learning the basics of this native Colombian style of music and dance. The performance begins at 8 pm and the workshop (free with concert tickets) will take place at 7 pm. For tickets, visit: https://www.flushingtownhall.org

Tributo a Bob Dylan
The McCrary sisters, Lizz Wright and Mumu Fresh have been added to the lineup for A Tribute to Bob Dylan, an event celebrating the great musical legend. In association with the Bob Dylan Center, this Friday 30th September at 8pm, The Town Hall and T Bone Burnett and curated by Burnett, the show will feature performances by a diverse range of artists, each performing songs written by Dylan looking back on the illustrious career of the Nobel laureate. This concert event will commemorate Dylan's landmark 1963 debut at the Hall, with all proceeds benefiting The Town Hall. For tickets and more information, visit: (www.thetownhall.org

The Queensboro Dance Festival concludes
After more than 40 outdoor summer events across the county, the Queensboro Dance Festival (QDF) is concluding its tour with a three-night season finale from September 30 to October 2, at the Queens Theatre, where all 26 Queens-based dance companies will perform. As a platform to represent the breadth of dance cultures in Queens, some of this year's QDF genres include Chutney, Tap, Hawaiian, West African, Contemporary, Afro-Latin, Turkish Gypsy, Hip-Hop, Kathak, Ballroom, Colombian, Greek, ballet and Filipino dances. Dance troupes come from neighborhoods ranging from South Ozone Park to Flushing, Long Island City, and Jackson Heights. Performances are Friday and Saturday, September 30 and October 1 at 7:30 pm, and Sunday, October 2 at 5:00 pm. Information: https://queenstheatre.org/event/queensboro-dance-festival-2022/
El festival PaleyWKND
The PaleyWKND, a festival of media, sports, games and entertainment, takes place this weekend, from Saturday 1 to Sunday 2 October. The event will take over The Paley Museum and its entire block, on 52nd Street between 5th and 6th avenues, in Manhattan, for a weekend full of interactive experiences and immersive attractions from more than two dozen world-class companies, iconic media brands and major sports leagues. Among the many participating stars will be Kate del Castillo, who will present an exclusive screening of the debut episode of the third season of La Reina del Sur on Sunday at 1:30 pm. The event is free and open to the public. More information: www.PaleyWKND.org

Outdoor Dance in Brooklyn
the dance group Mark Morris Dance Group will present two shows at Brooklyn Bridge Park on Harbor View Lawn, this Saturday, October 1, as well as a workshop for all ages and abilities to learn some excerpts from his repertoire. Hour-long performances will take place at 2pm and 4pm and will include Water, Greek to Me, Orfeo ed Euridice (excerpts from a larger opera) and Dancing Honeymoon.
At 3:00 pm, members of the company will hold an adaptive dance workshop to teach excerpts from Water and Dancing Honeymoon. No tickets or reservations required, just come and join! The Mark Morris Dance Center is located right on Lafayette Street and offers classes in all disciplines and for people with and without disabilities. It is also the main site for her research-backed dance classes for people with Parkinson's disease. More information: https://markmorrisdancegroup.org/

On the street Block Party
Ballet Hispánico will celebrate its traditional On the street Block Party this Sunday, October 2, on 89th Street between Amsterdam and Columbus avenues, from 12:00 to 4:00 pm. To kick off the celebration, at 11 am there will be a proclamation and special street naming ceremony with community leaders and special guests. The free party will feature performances by dancers from Ballet Hispánico's Pa'lante Scholars program and students from the dance school. There will also be free dance classes, live music and food from local vendors. Ballet Hispánico will invite a select group of New York City dance companies to perform as guest artists, including Flamenco Vivo, Bombazo Dance Co. and Calpulli Mexican Dance Company. More information in:www.ballethispanico.org/HHM

Art for the good of the planet
NOoSPHERE Arts presents REPOPULATIONS: New Horizons, a group art exhibition focused on environmental reflection. The show is inspired by Climate Week, which focuses on issues related to the environment and takes place annually during the summer and early fall months. Curated by Daniela Holban, the exhibit is part of NOoSPHERE Arts' WE ARE NATURE series: art events that make the most of the unique setting of the Kingsland Wildflowers bird sanctuary at Broadway Stages in Greenpoint, Brooklyn, to appeal to a diverse audience. in environmental efforts through art. From September 30 to October 23, 2022, at 520 Kingsland Avenue, Greenpoint, Brooklyn. There will be an opening reception on Friday, September 30, 2022 from 6-9pm For more information, visit noosphere-arts.nyc/exhibiciones.