They killed a "hero" woman: paramedic stabbed in broad daylight on a street in Queens, New York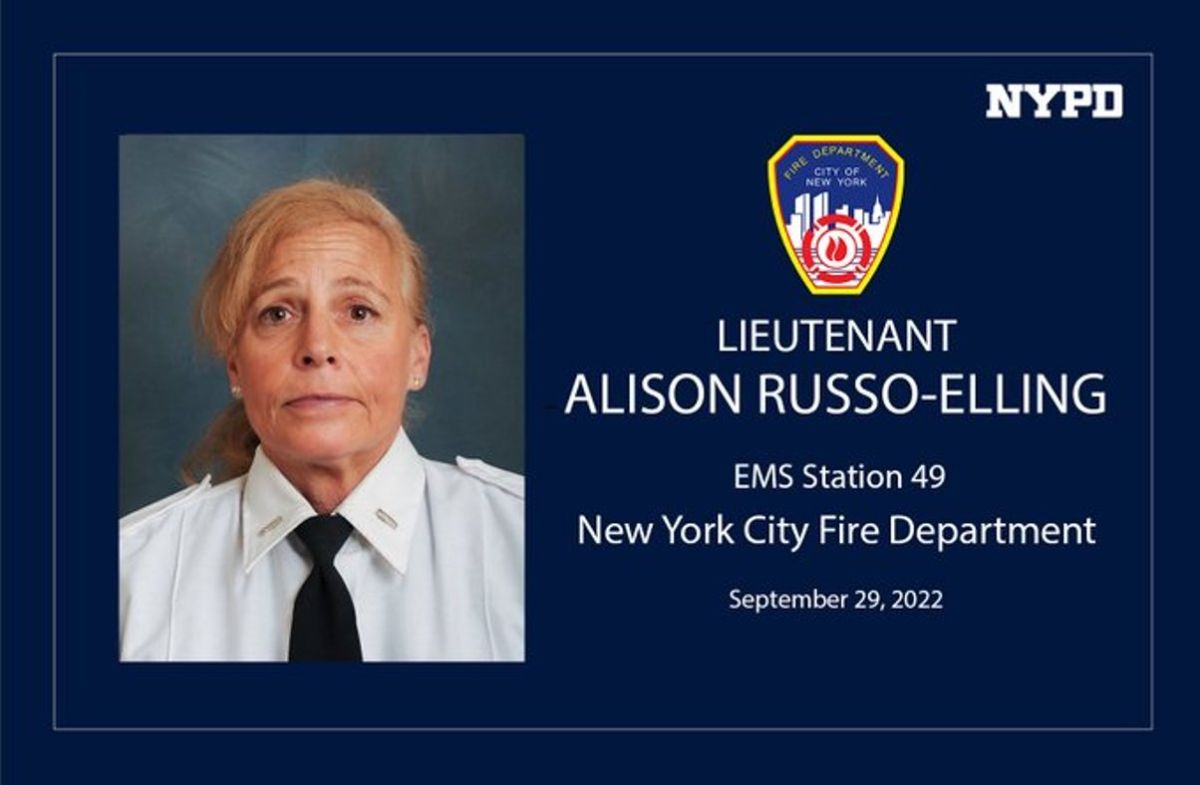 Lt. Alison Russo-Elling, FDNY paramedic lieutenant, was stabbed to death by a man with apparent mental problems on a Queens street yesterday, in an unprovoked attack that occurred while going to get food, authorities said.
Lt. Russo-Elling, a 61-year-old veteran of the departmenti who was a lifeguard at the World Trade Center on September 11, 2001, it was stabbed more than 20 times by an assailant at 20th Avenue and 41st Street yesterday around 2:20 p.m., police said. "We lost one of our heroes," Mayor Eric Adams said during a press conference.
El ham striker Peter Zisopoulous The 34-year-old was arrested after a Good Samaritan chased him down and barricaded himself inside his nearby apartment.. Police were able to talk him down and arrest him, Essig said. He was then arrested at the 114th precinct.
"We lost one of our heroes"

Eric Adams, Mayor of New York
Russo-Elling was knocked to the ground by an alleged maniac who wielded a knife and proceeded to stab her repeatedly as she lay helpless on the concrete, summed up New York Post.
The lifeguard was on duty at the time and half a block from Station 49 when she was attacked, NYPD Chief of Detectives James Essig said. Officials did not provide details about what caused the violence, but authorities said the attack was "without provocation."
"At this point in the investigation, there does not appear to have been any prior contact between them," an FDNY source said. "He just walked up to her, sped up, and then stabbed her to death."
The 25-year career veteran was rushed to Mount Sinai Hospital in critical condition but could not be saved, police said.
In a joint statement, FDNY Firefighters Association President Andrew Ansbro and FDNY Fire Officers Association President Lt. James McCarthy said they stand in solidarity with "our brothers and sisters" in the department. .
"The death of Alison Russo is a tragic reminder of the dangers facing each and every member of the FDNY and the uniformed services," they said. "His senseless murder brings sadness to all members of the FDNY."
The case recalled the murder of the Hispanic Yadira Arroyo, FDNY paramedic hit and run when an allegedly ill man stole his ambulance in the Bronx in March 2017.