NYC schools report peace of mind about COVID-19 cases and remind that there are security protocols in place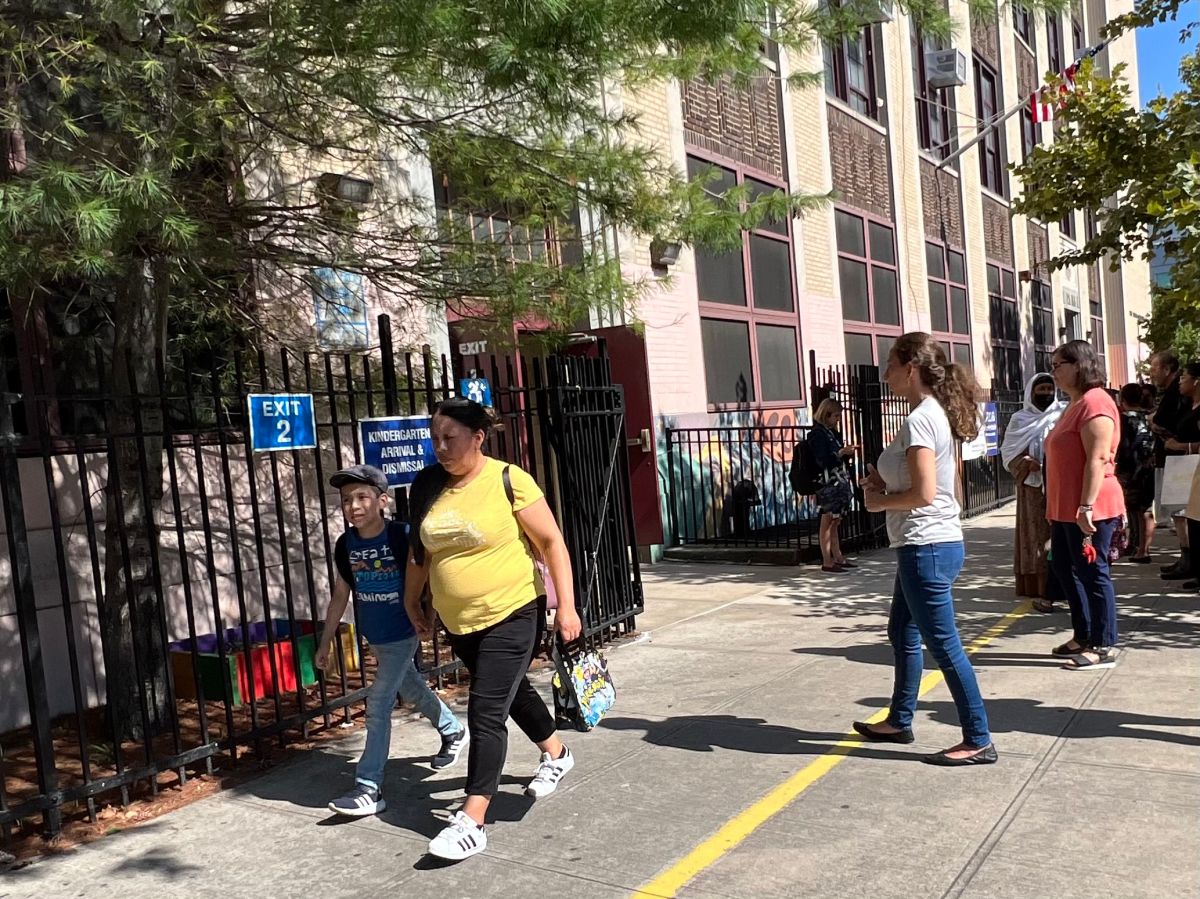 It's now three weeks since the start of the new school year in New York City, with nearly 1 million children returning to classrooms in the more than 1,600 campuses in all five boroughs, and parents like Pilar Rodríguez, who has two children at an elementary school in Long Island City, Queens, say they aren't quite sure how COVID-19 is currently affecting the schools.
The mother of the family assured that although she receives daily reports from the school authorities of the school where her children study, about the number of positive cases that are discovered, she does not know whether to feel "quiet or worried"Well, she says that outside the campus she hears information that confuses her.
"The truth is that at this moment I am making balls, because I do not know exactly what is happening with the covid, if it is gone, if there is no longer a pandemic or if we are at risk again", comments the Mexican, who made reference to the recent statements of President Biden, who stated that the country was no longer in a pandemic. "At school I also keep hearing that there are children and teachers getting sick and even that they have closed classrooms, and most of the little ones I know have not been vaccinated, and that worries me, but the teachers tell us that things are fine. But I hear on the news that there are thousands of cases every day."
In case of doubts like these, the Department of Education of the City of New York (DOE) provided a piece of reassurance about the impact COVID has had on schools.
According to data provided by that agency, although currently the vast majority of schools are reporting some cases of COVID, As can be seen in an interactive map that they have prepared so that parents can directly monitor what is happening in real time, there are no schools closed or schools under evaluation.
However, and despite the fact that the DOE has not yet provided the percentage of positivity for COVID in school facilities, which for many months have been considered the safest places in the Big Apple against this disease, the data reveals that 1,237 infections (882 among students and 355 among teachers and school personnel) were reported on the last day. The rate of daily infections throughout the city currently it is 9.2%.
Also a total of 4,931 classes they have been closed since the start of the school year, as have 17 schools, but all are currently reopened; 20,665 children have been placed in partial classroom quarantine, 167 schools have been tested for COVID cases and 883 children are quarantined outside in their homes.
Jenna Lylespokeswoman for the Department of Education, insisted that the city's schools are prepared to continue guaranteeing the safety of children and teachers in relation to COVID-19.
"The safety and well-being of our students, staff, and school communities whole has been during the pandemic, and continues to be, our main priority, "said the school official. "It is essential that our students remain in classrooms, receiving in-person instruction and the comprehensive supports they need."
The DOE spokeswoman stressed that "As always, we will continue to follow the science and adjust the guidance if necessary."
Within the current protocols there is an expansion of the surveillance testing program in schools to double the number of people tested, including unvaccinated students and vaccinated students, as well as staff.
Also the DOE ensures that "every student and adult in a classroom with a positive case will immediately receive a rapid test kit at home and must perform two tests in five days."
Also the schools remain committed to "making vaccination easily accessible and available to all (…) and fully functioning ventilation systems supported by two air purifiers in each classroom".
On closing schools as a preventative measure, the DOE added that "they will be closed only when the New York City Department of Health and Mental Hygiene (DOHMH) determines that there is widespread transmission. With the health and safety measures in place, we expect school closures to be limited."
Pedro Frisneda, spokesman for the Department of Health of New York City, also revealed that the Big Apple's health authorities continue to work closely with schools to ensure that COVID infections remain low, but cautioned against letting your guard down.
"We have been in a transition phase for a long time between emergency and endemicity. We are no longer in this emergency phase of the pandemic, but we have not yet defined what the new normality or endemicity looks like and this is our process to get there," said the Health official, calling on parents to vaccinate. to their children.
"We have seen a sustained decline in cases and hospitalizations. However, we have seen time and time again how new variants and augmentations are just around the corner. The best way to protect yourself and your children against future surges is to get vaccinated or get a booster dose, if the time is right," Frisneda added. "The City is promoting the vaccine/booster in communications with school families, including letters accompanying home tests that are sent to students after exposure. These communications include information about the new boosters and the vaccine search site so families can find sites with the new boosters."
COVID-19 in NYC schools in the new school year in numbers
1,237 new infections in the schools
882 of the infections have occurred among students
355 of those infected have been teachers and school personnel
4,931 classrooms have been closed but are currently all reopened
262,126 cases of COVID among children and staff have been reported in the last year in schools
883 children are currently quarantined outside of the classroom due to COVID
20,665 children are in partial quarantine in the classroom
167 schools have been tested for COVID cases
17 schools have been closed due to COVID
49.2% of children under 18 years of age are still not vaccinated
50% is the percentage of children without a vaccine among Latinos
45% of children ages 5 to 12 are still not vaccinated
Protocols with which public schools combat COVID-19
Vaccination continues to be considered by the DOE as the best way to reduce the risk of COVID-19. You can call 877-829-4692 to find a location near you.
Vaccination is still required for all visitors entering school buildings.
Vaccination is still required for all DOE employees
Vaccination is still required for other people who work in DOE buildings
Vaccination is no longer required to participate in high-risk extracurricular activities, including high-risk PSAL sports.
Stay Home If You Are Sick: Students and staff should stay home if they show any symptoms of COVID-19 or other illnesses and get tested for COVID-19.
Isolate If COVID-19 Positive: Students and staff who test positive for COVID-19 are required to isolate for 5 days and may return to school on the 6th if they do not have symptoms or if symptoms are improving. They must wear a mask until the 10th day after the onset of symptoms or the date of the positive test, whichever comes first.
These cases should be reported to your school so they can be reported in the waiting room for exposure notifications.
Should be tested if exposed to COVID-19: Students and staff who are exposed to COVID-19 should be tested
These individuals must receive home tests from their school and take two tests, at least 24 hours apart, on day 4 and day 5 of their exposure.
All exposed people should monitor for fever and other symptoms of COVID-19 for 10 days after exposure. If symptoms begin, they should not attend school and should immediately isolate and get tested for COVID-19 again.
Beginning on the first day of school, schools will offer home testing kits to those with possible exposure at school and to those with symptoms.
Additionally, each staff member and student will receive 4 tests per month to take home. These tests can be used by school families to test for symptoms, exposures, high-risk activities (such as travel and large gatherings), and can give immediate results to staff and students.
The schools all have situation rooms: where they must report positive cases of COVID-19
The Situation Room will provide schools with standardized communications for their communities and will notify school communities of cases in their schools through daily email and the daily COVID map.
Students and staff, regardless of immunization status, are strongly encouraged to wear a mask when exposed to someone with COVID-19
Monitor ventilation in buildings daily and perform any required work in a timely manner
The routine cleaning of the surfaces will be maintained.